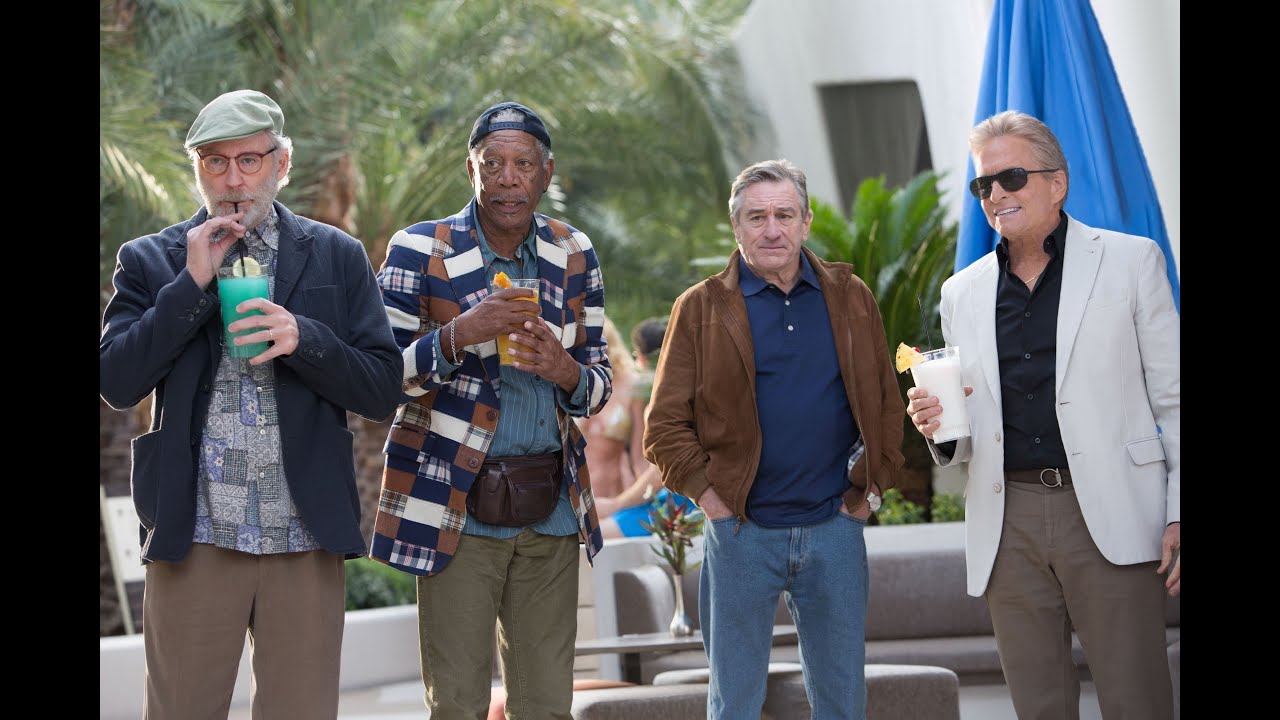 "Ultimately, Last Vegas feels like a desperate attempt to graft The Hangover onto Grumpy Old Men"
- Yahoo! Movies
Last Vegas
feels almost like the first
Hangover
, except with a bunch of old guys - no offence - and more appropriate sense of humor (at times). Seriously, you can even take your kids to see this movie (but don't take my word for it). And if you are thinking three
Hangover
films are just about enough, this one has
Morgan Freeman, Robert De Niro, Michael Douglas
and
Kevin Kline
in it. Also, if you still feel bummed about not seeing the actual bachelor party in
The Hangover
, well,
Last Vegas
is all about the "partaaay."
Is Last Vegas a badly recycled version of The Hangover, or is it just as good, if not even better?
Read some review highlights below!
IMDB: 6.6/10
Synopsis: Billy (Michael Douglas), Paddy (Robert De Niro), Archie (Morgan Freeman) and Sam (Kevin Kline) have been best friends since childhood. So when Billy, the group's sworn bachelor, finally proposes to his thirty-something (of course) girlfriend, the four head to Las Vegas with a plan to stop acting their age and relive their glory days. However, upon arriving, the four quickly realize that the decades have transformed Sin City and tested their friendship in ways they never imagined. The Rat Pack may have once played the Sands and Cirque du Soleil may now rule the Strip, but it's these four who are taking over Vegas.
Starring: Robert De Niro, Morgan Freeman, Michael Douglas, Kevin Kline, Mary Steenburgen, Jerry Ferrara, Romany Malco, Weronika Rosati and others.
"
Viewers who were intrigued by the Last Vegas trailer should have a pretty good idea of what to expect: a film that allows fan-favorite actors the chance to poke fun at each other, aging, and Las Vegas culture, while including enough heart to make up for any especially worn-out jokes.
- Screen Rant
It's the sort of film where the men are written with something resembling personalities, while the women (with the exception of Joanna Gleason, as Kline's understanding wife, and Steenburgen) are divided into two categories: sexy young babes for our heroes (and the camera) to ogle, and chubby old frumps that the movie punishes for the crime of not giving Michael Douglas an erection.
Ultimately, "Last Vegas" feels like a desperate attempt to graft "The Hangover" onto "Grumpy Old Men" (or, perhaps, "The Golden Girls"), and while the transplant never quite takes, you won't lose your affection for the surgeons.
- Yahoo! Movies
Star power counts for a helluva lot in Last Vegas, an amiable geezers comedy with an affecting emotional anchor. To call this the geriatric Hangover is both accurate and misleading, as the main fun here is not so much the broad humor as it is to watch five great old pros -- Michael Douglas, Robert De Niro, Morgan Freeman, Kevin Kline and an entirely captivating Mary Steenburgen -- imparting pleasure while obviously having it themselves. Although formulaic in design and programmed to meet its quota of laughs, the film makes a point of going beyond basic expectations into some legitimate aspects of mature friendships without getting soggy about it. CBS Films looks to make this visit to Vegas a profitable one.
- The Hollywood Reporter
As a comedy, though, Last Vegas is strictly by-the-numbers old guy jokes and scenarios, which is surprising seeing as how the movie was scripted by Dan Fogelman, who also wrote the very good rom com Crazy, Stupid, Love. There are aches and pain jokes, Viagra jokes, robbing the cradle references, "are you dead?" gags, you name it. All these boxes are checked and even this quartet of scree heavyweights strain to make the jokes land with any true comedic impact.
- IGN
"